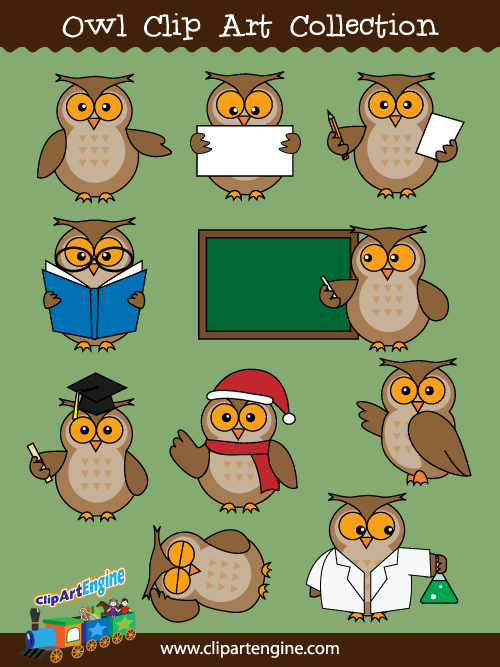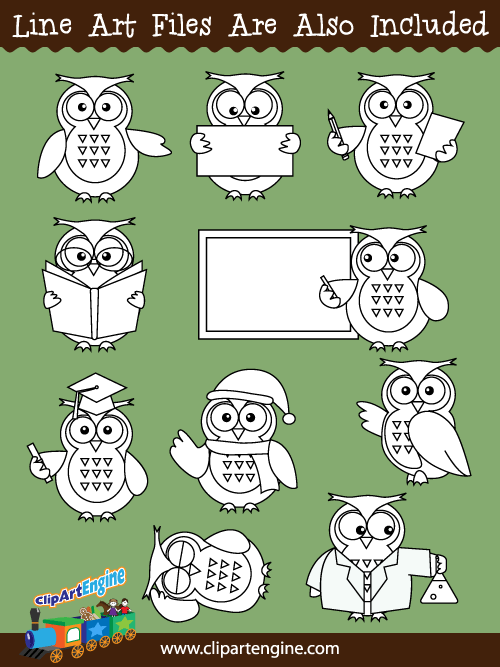 Buy This Now: $4.99
Description
Our Owl Clip Art Collection has cute designs of an owl in different poses. There are 20 graphics (10 in color, 10 in black and white) in this collection. It includes a generous personal and commercial use license with no restrictions on how many times you can use the designs.
The graphics in this collection of owl clip art are an owl holding a blank sign, an owl with a blank piece of paper and a pencil, an owl reading a book, an owl in front of a blank classroom style blackboard, an owl in a Christmas outfit, an owl with a graduation cap and a diploma, an owl scientist with a lab coat on and a beaker, an owl sleeping, an owl pointing to the right, and an owl pointing to the left.
Files You Will Receive
20 Editable EPS Vector Files
20 High Resolution PNG Files set at 300dpi
20 High Resolution JPG Files set at 300dpi
Files With Transparent Backgrounds
Black and White Line Art Files
1 Zip File With Everything Inside
Why You Will Love It
Personal and Commercial Use License
Professional Quality Clip Art
Available for Instant Download
Easy to Use
Vector & Print-Ready Files
No Attribution Required
No Signup Needed
PC/Windows & Mac Compatible
Easy to Understand, Hassle-Free License
You can use the royalty-free graphics in this collection of owl clip art on personal, educational, and commercial projects.
Our royalty-free license entitles you to the unlimited use of our clip art in any media.